Approved coins for an IRA include gold coins or IRS approved precious metals or physical metals such as gold, silver, platinum and palladium bars and coin types.
Click on image to enlarge graphic of IRA approved precious metals: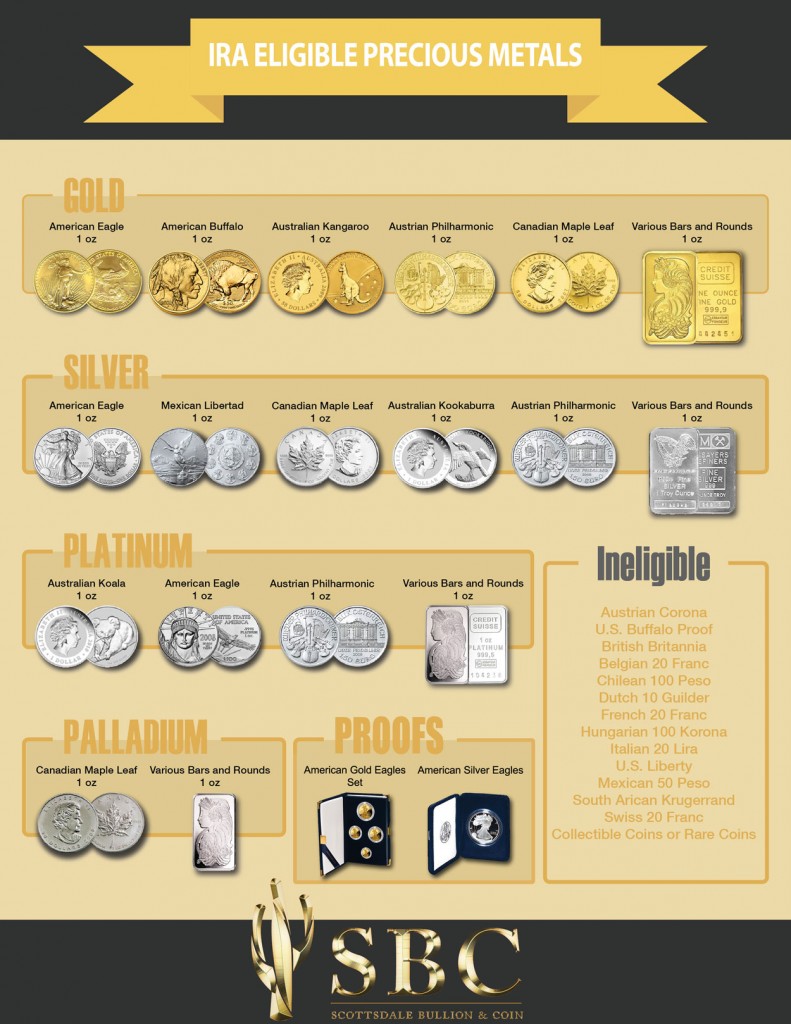 IRA Approved Precious Metals
GOLD
American Eagle Gold Coins
Australian Kangaroo/Nugget Coins
Austrian Philharmonic Coins
Canadian Maple Leaf Gold Coins
Credit Suisse/PAMP Suisse Gold Bars
Proof American Eagle Coins
American Buffalo Bullion Gold Coins
Various Gold Rounds and Bars .995
Learn More about a Physical Gold IRA.
SILVER
American Eagle Silver Coins
Austrian Vienna Philharmonic Coins
Australian Kookaburra Coins
Canadian Maple Leaf Silver Coins
Mexican Libertad Silver Bullion Coins
Proof American Eagle Coins
Various Silver Rounds and Bars .999
Learn More about a Silver IRA.
PLATINUM
American Eagle Platinum Coins
Austrian Philharmonic Coins
Australian Koala Coins
Canadian Platinum Maple Leaf Coins
Various Rounds and Bars .9995
PALLADIUM
Canadian Maple Leaf Coins
Various Rounds and Bars .9995
InEligible Precious Metals for IRA
Collectible coins or rare coins, including graded or certified coins, are not eligible for a Precious Metal IRA. The following is a list of precious metals that may not be included in a Precious Metal IRA.
Austrian Corona
U.S. Buffalo Proof
British Britannia
Belgian 20 Franc
Chilean 100 Peso
Dutch 10 Guilder
French 20 Franc
Hungarian 100 Korona
Italian 20 Lira
U.S. Liberty
Mexican 50 Peso
South African Krugerrand
Swiss 20 Franc
Collectible Coins or Rare Coins