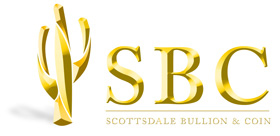 Don't pay overly inflated fees to rollover your IRA to a Precious Metals IRA.
Learn More About How Scottsdale Bullion and Coin Will Get You:
No Storage Fees*
$0.00 Administration Fees*
100% Upfront, Unbeatable Pricing
Scottsdale Bullion and Coin (SBC) Has Been Seen On:

What Our Clients Are Saying:
"I want to thank you for the time spent with me educating and counseling me about the Gold & Silver markets. Obviously, I am happy with the results of my investments with you and plan to continue to add to my precious metals inventory. The purchases were easy & hassle free. I look forward towards future business." – Craig W. Scottsdale, AZ
"Great company to deal with. I purchased some silver from them and I couldn't be happier with the way I was treated. They got me the information I was looking for and in a timely manner. More importantly they delivered on the product I was purchasing. Very professional company." – Mike H. Glendale, AZ

*Valid information is required to receive a Free Investment Guide.
**By completing this form you agree that Scottsdale Bullion and Coin (SBC) may send our free investor guide to you and contact you using the phone number and e-mail provided above.