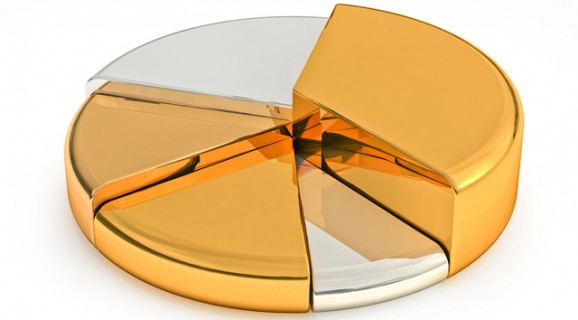 A volatile market makes it hard to invest because it is difficult to identify the best asset allocation for personal goals. A simple way to help reduce the risk of volatility and enjoy the growth of your personal portfolio is by diversifying your investments. Adding physical forms of gold, silver and platinum to your investment strategy can combat the risk of losing funds in a volatile market.
Reasons to Diversify
By recognizing the importance of diversification, it is easier to organize your personal goals and create an asset allocation strategy that will help you attain your objectives. According to U.S. News, the basic principle behind diversification is that you are not putting all of your funds into a single investment or asset class.
The reasons that it is important to buy silver, gold and platinum as part of your diversification strategy include:
Reducing your risk of a total loss
Combating inflation rates
Setting up a negative correlation with other investments
Diversification allows you to limit your risk by selecting a variety of assets so that losses in one asset class do not drag down your entire portfolio. It maintains steady growth that aligns with your personal financial goals.
Buying Gold, Silver and Platinum
Diversifying a portfolio does not necessarily focus solely on stocks, bonds and cash. According to the World Gold Council, precious metals are a stable investment solution that helps hedge risks when asset classes are showing extreme movement and instability.
It is possible to buy silver, gold and platinum in different ways. The options include:
Bullion
Coins
Jewelry
Precious metal stocks
Hard assets provide a safety net when the value of currency is volatile or when economic factors are causing shifts in the stock market. By purchasing bullion or coins, it is less likely that complications will arise when economic factors impact the market as a whole.
Protecting Against Inflation and Deflation
Preparing for retirement or protecting assets during retirement requires investments that will combat inflation or deflation over the years. According to Investopedia, precious metals tend to rise when the cost of living increases, which helps after reaching retirement.
Although protection against inflation is essential for any individual who plans to retire, the protection against deflation and recession plays a significant role in finding the right investment strategies. According to Investopedia, the price of gold actually increased dramatically during the Great Depression, when the purchasing power of other items dropped.
Precious metals are negatively correlated with many stock investments. Historically, when the stock and bond prices drop, the price of gold and other precious metals tends to rise. As a result, buying gold, silver and platinum is a diversification strategy that provides protection against market fluctuations.
Asset allocation is an essential part of creating a diverse portfolio that has a greater chance of meeting your investment goals. Buying gold, silver and platinum will provide the opportunity to protect your investments when the market is unstable so that you do not need to worry about any short-term fluctuations in your stock investments.